Dengarry Professional Services Ltd.
Employment Services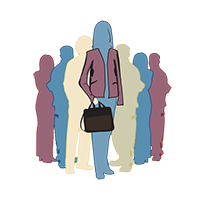 Employment Services
The goal of Employment Services is to assist individuals in selecting, obtaining and maintaining their vocational goals as identified. Both Job Seekers and Employers are seen as customers of the service. This service, therefore, attempts to meet the needs of both customers promptly and efficiently.
Employment Services individualizes services to meet the needs of individuals and employers.
The range of services includes, but is not limited to:
Assistance in developing a resumé and covering letter
Assistance in individual job search
Assistance with interviews
On the job training assistance
Job development
Follow up services to both the individual and the employer
Employment Services builds on the individual's strengths and abilities and attempts to add in supports for the individual's areas of need. Natural supports in the employment environment are identified and utilized whenever possible.