Dengarry Professional Services Ltd.
CARF Canada Accredited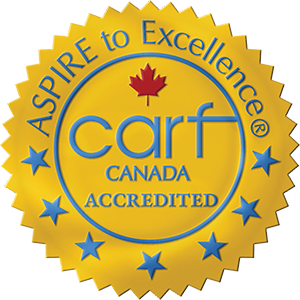 Dengarry received accreditation status in 2004 from the accrediting agency C.A.R.F. (Commission on Accreditation of Rehabilitation Facilities) and continues to remain in good standing.  Recently, CARF accredited Dengarry Professional Services Ltd. for a period of three years (2017 – 2020) for the following services:
Community Employment Services: Employment Supports
Community Employment Services: Job Development
Community Integration
Host Family / Shared Living Services
Respite Services
Support Living
The CARF Surveyors' report stated; "On balance, Dengarry Professional Services is acknowledged for providing services to the community for 30 years. Its longevity is attributed to being attuned to emerging and changing needs of this expansive area of British Columbia where it has proven to be a responsive and resilient organization. The individuals served, their families, and external stakeholders express a high level of satisfaction with the organization, its leaders, and direct service staff members and with the services provided in the areas of employment, housing alternatives, and community integration. The staff members are valued, are respected, and express high levels of satisfaction."
Through this process we continue to work on improving services.